Invitation: In conversation with P. Sainath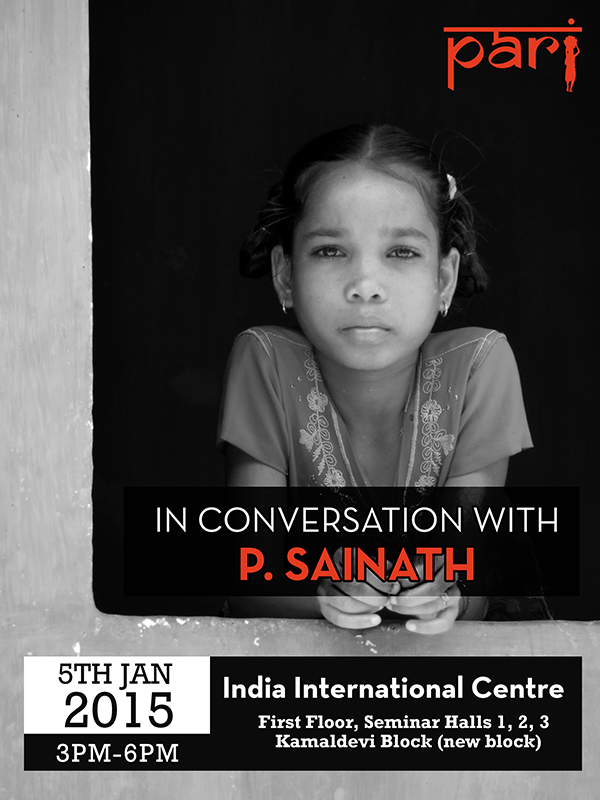 Dear Friends
The People's Archive of Rural India (PARI) is delighted to invite you for a conversation with its founder, journalist P. Sainath. Sainath will introduce PARI, and answer any questions you may have about the initiative, the first of its kind in India.
Date:  5th January 2015
Time: 3:00 – 5:00 pm
Venue: India International Centre, Seminar Halls 1, 2, 3 Multipurpose Hall, Kamaldevi Block (new block), First Floor. 
The PARI website, both a living journal and an archive is aimed at recording the everyday lives of everyday people; it will host and combine video, still photo, audio and text articles.The site will be launched on December 20th, 2014.
The website is not-for-profit, free to view and all the contributors - journalists, writers, film-makers, editors, translators, techies, lawyers and accountants - are volunteers. It will be licensed under creative commons (version 4.0) which means the contents can be shared by others, as long as it is non-commercial. (The PARI website too is developed free of charge, by a global software company ThoughtWorks, at Ascendas Tech park, Chennai.)
The website hopes to grow by public participation. Anybody can send us pictures, text articles, photo stories, films - as long as it fits our mandate - 'the everyday life of everyday people'. Content on the site will be curated to ensure the maintenance of high standards. PARI hopes to function on crowd-funding. It will not be dependent on direct corporate or government funding.
You can read up more about the website here: http://www.ruralindiaonline.org/about/
PARI will be an important educational tool, and you can find out more about that here:http://www.ruralindiaonline.org/about/pari-teachers-students/
We look forward to your support to help us spread the word about what is possibly the biggest initiative of its kind anywhere.