P. Sainath
Once, Andhra Pradesh's top leaders queued up at Bandi Lachmamma's home with promises. The debate on farm suicides hit the headlines when her husband took his life. Years later, she works as a coolie in Anantapur earning much less than the minimum assured by the NREGP — which turns away single women.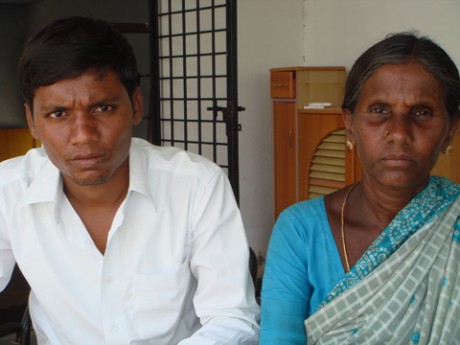 "THEY DON'T want widows," says Bandi Lachmamma. She's speaking of the National Rural Employment Guarantee Programme. "I could not find work at those sites for more than a few days. After that, they turn you away if you are single, without a male partner." And she's speaking in Anantapur, Andhra Pradesh, where the NREGP — the nation's flagship development project — was first launched. The programme itself has benefited lakhs of families in the State. But Lachmamma is among those who have lost out.
"She's quite right about this," says K.R. Venugopal, a former Secretary to the Prime Minister. "Others like her have had the same experience," he told this correspondent from Hyderabad. Mr. Venugopal, who was also Special Rapporteur to the National Human Rights Commission, has recently done a study on the NREGP. "Single women do indeed lose out for the reasons she gives." A woman who remains in her husband's village after his death is often isolated there. It is not easy to find a male partner for work — something worksite officials demand.
Lachmamma is one of Anantapur's most well known women. For all the wrong reasons. This is a district that shot to national notoriety for its flood of farmers' suicides. And her husband's was the first to capture media attention. When Bandi Narasimhalu killed himself almost seven years ago, it shook Andhra Pradesh and sparked debate on the agrarian crisis crippling the countryside.
Narasimhalu, a groundnut farmer with five acres, cracked under a debt of Rs.2 lakh, crop failure, and cultivation costs. As his wife told us in that period: "He came home one day and took his life with the only thing the government had given him. Monocrotophos." ( The Hindu , April 29, 2001.) That pesticide was the one free input handed out to farmers in the State at the time. His death rocked the Andhra Pradesh Assembly. Political leaders queued up at Lachmamma's doorstep in Chiyyedu village. The media descended on her in droves.
Today: "I try to run my farm. But just now I'm mostly working as a coolie in Anantapur town." That is, for Rs.60 a day on a railway construction project handled by a private contractor. Of which Rs.10 "goes in paying for the auto." The `auto' is a euphemism for a seven-seat three-wheeler that actually stuffs in up to 20 human beings. She pays Rs.5 each way of the 18-kilometre journey.
"With all those leading figures coming here and making promises," says Dr. M. Geyanand, a well-known doctor in Anantapur, "this is still how she ends up. Imagine how the others must be faring." Lachmamma says "Y.S. Rajasekhara Reddy was one of those who came to my house." He was then an Opposition leader. She accepts that because of his visit, the family got Rs.25,000 from the local Congress MLA. "But Rajasekhara Reddy said he would build me a home. With folded hands, he promised me a job. It did not happen. I have not seen him since," she says, without bitterness, though.
The Rs.1 lakh compensation the Government gave the family has been steadily dwindling. At the farm, "the input costs keep going up and we lose money each season. We also have no cattle." Because Narasimhalu sold off their cattle before he died. And because "a bullock we bought after his suicide also died."
At the government work sites: "The field assistants and project officials prefer to deal with groups," says Lachmamma. "If you do not have a male partner, they turn you away, assuming you cannot do real physical labour. They don't want widows. They told me: `to benefit from this scheme, you must be at least a pair of workers.' So I am forced to work as a coolie in Anantapur." That, at much less than the minimum Rs.80 the NREGP would give her.
A new book Capturing Imagination of the Stakeholders also confirms her complaint. Written by Dr. S. Gopal, the book is based on field studies on the NREG Act in operation. It records that over 200 women in Borampalli village of Anantapur district said that "they were not being called for work at all." It notes that this is because segments of the work are mostly taken up "by two or three families as a unit." It found that since higher output was seen as "coming only by being family-centric, single-women have no place in the NREGA."
So she wakes up at 5 each morning. After cooking, fetching water, washing, and other chores by 7 a.m. she heads for the `auto' that takes her to Anantapur. Reaching there an hour later, she has a tiny meal she's taken along. She starts work at 9 a.m. and is back home only 7 p.m. where she has to look after her son Gopal and her daughter's son as well. Both stay with her. Gopal has just become a computer operator at a local bank but only on a casual basis. He will get Rs.1,500 a month as long as he is kept on. The three thus live on about Rs.100 a day "most of which goes in our basic expenses."
"Remember that when the agricultural season comes along, we have to hire labourers at around Rs.100 per head — more than what we ourselves earn daily off-season. We spend around Rs.3,000 each season on labour." But she hasn't given up on the farm. She will cultivate it and "if there's a decent crop, we can survive."
Her big hope is that her 10-year-old grandchild, now in the 5th class, "will have a better life than us." She has another son "who drives one of those `autos' of the kind I travel by," she laughs. But "our timings are very different," so there are no free rides to Anantapur. "He lives separately with his own family now. They can barely support themselves. So how can he help us," she says. So who can? "Maybe Rajasekhara Reddy. Now that he is Chief Minister, do you think might build us that house and give my son a job?"
First published in The Hindu May 22, 2007