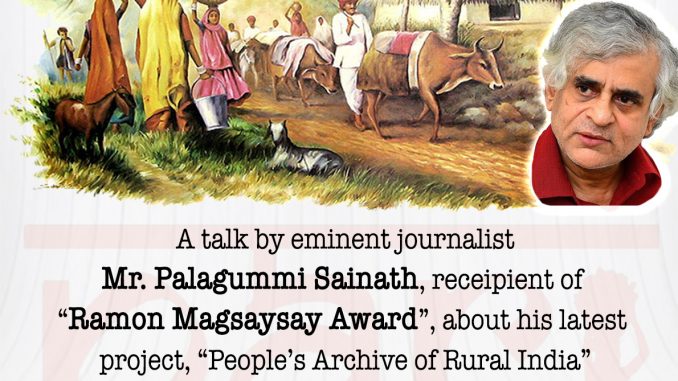 Sept. 21: 4:00 – 6:00 p.m.
Telling the stories of 833 million in the digital age
Space 2435, North Quad
University of Michigan at Ann Arbor
https://www.ii.umich.edu/csas/news-events/events.detail.html/43448-9763097.html
Sept. 23: 9:30 -12.30 pm
Last session of the Seeking Justice in South Asia conference. (Sainath will probably be the last speaker)
http://ii.umich.edu/csas/news-events/events/conferences/seeking-social-justice-in-south-asia.html
Sept. 24: Michigan, Ann Arbor – Daytime, informal (all welcome though) discussion with AID volunteers on agrarian crisis, etc.,
Sept. 25: Ohio state university 2 p.m.
Digital textbooks of the future.
The People's Archive of Rural India reports the stories of 833 million Indians
Sep 27 Wednesday:
PARI, presented at seminar in Harvard's Nieman Foundation (Not an open meeting, people can, though, seek an invitation from the foundation)
Contact Shalini for details.
September 28, Thursday, at 12pm.
Center for Civic Media at the MIT Media Lab on Thursday, Boston, Mass
September 28, Thursday, 7pm AID Boston event on Inequality and the agrarian crisis etc.,

30th evening in Portland
Public meeting around PARI
1st October morning Portland, Oregon meeting with AID volunteers at an AIDer's residence.