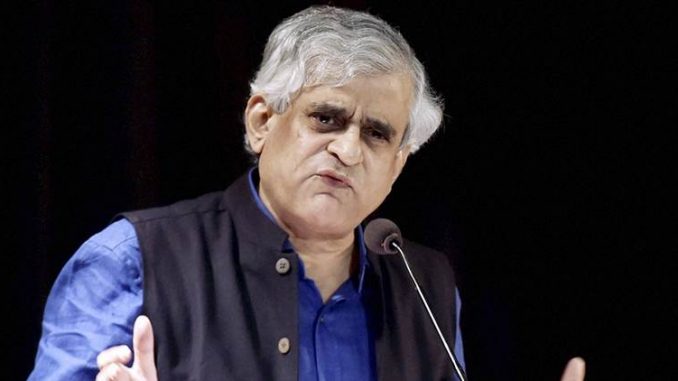 A measure of P Sainath's popularity is 50 people sitting cross-legged on the stage to make room for a 100 more who were pushing in at the door of the India International Center on Wednesday evening. The celebrated journalist was there to make his contribution to The D S Borker Memorial Lecture Series on "My Vision of India: 2047 AD". He is now part of a legacy that has been created by other speakers such as Colin Gonsalves, Madhav Gadgil, the late Mahaswetha Devi, Medha Patkar, and MS Swaminathan. The lecture series is an annual event that commemorates Dwarkanath Sadashivrao Borker, a civil servant and public sector administrator.
Sainath opened with a disclaimer, saying that the word vision scares him; it gives the idea of something lofty and big. However, in his interviews for People's Archive of Rural India, with the last of the freedom fighters of India, he found that they were all driven by a vision that came from different schools of thought but was about a nation based on justice. "The vision of 1947 remains only partially realised, unfulfilled and extremely important. And what we can hope to achieve in 2047 could depend a lot on what we do in 2017. It requires a completely unromanticised view of what is, to think about what should be," said the 59-year-old.
India has generated levels of inequality that are criminal, he said, and Sainath envisions an India willing to look itself in the mirror and see it for the caste-ridden, unjust society we are. "Caste in India is not just a social evil, it is a permanent and perpetual pool of cheap, demoralised labour. Approaching 2017, Dalits are still forbidden to use common grounds and properties. We have a quarter of a million human beings cleaning human excreta with their hands, and we have socialised ourselves not to see this. We cannot have vision if we cling willingly to myopia," said Sainath.
For the Dalits, currently it is their greatest battle for human dignity, he said. "The right to be recognised as human, the destruction of untouchability and to be able to ascertain their rights that are guaranteed by the constitution but rarely enforced." The numbers of India's material inequality is staggering, and we live now in a society that has evolved the forms of exclusion, with class exclusion sitting very comfortably with caste exclusion. "There's a generation sitting here who lived through a time when there were no steel gates fencing off major colonies in Delhi. Privatising has now lead to gated communities that praise and glorify exclusion, we are celebrating inequalities."
The Ramon Magsaysay awardee called out the media too. It's impossible for a complex heterogeneous society to be covered and stay informed by a narrow homogeneous media, he said. "Is it unreasonable to ask that the media practise something called journalism and do so with near human intelligence and sensitivity? All the great stories have come from outside the mainstream, corporate media and we've accepted that the media is a business," he said.
Sainath concluded saying, "We have a media that is driven by revenue not by reality, by commerce not by community, by profit not by people, by narrow corporate greed not by news judgement. Media, journalism, art and literature did not come out of corporate investments, they came out of communities and societies, we need to return them to the people."
Written by Catherine Rhea Roy
Originally published on August 26, 2020